Gear up your PBX - cut costs, boost profits with 3cx
Why choose 3CX?
3CX: Your Unified Communications Platform
Software-based PBX
Multi Platform: Windows, Linux, Cloud, Mini Appliance
Slash telco costs
Increase productivity & mobility
Open Standard SIP, WebRTC
Major Global customers
Software based
Runs on standard server hardware
Virtualize on Hyper V or Vmware
Easier to manage, scale & secure
No need for a proprietary black box

Slash Telco costs
Slash your phone bill using:

VoIP Providers
Interoffice bridges

Free calling to teleworkers
Reduce travel costs with built-in video conferencing
Cheaper to buy, scale and manage
In-house administration & maintenance
Improve customer service
Customer name instead of caller ID - links to your CRM / Exchange Server
Listen in, Barge In, Whisper & Record Calls
Advanced Queue monitoring – Never lose a call!
Built-in web conferencing for easy case resolution
Advanced Agent & Sales person Reporting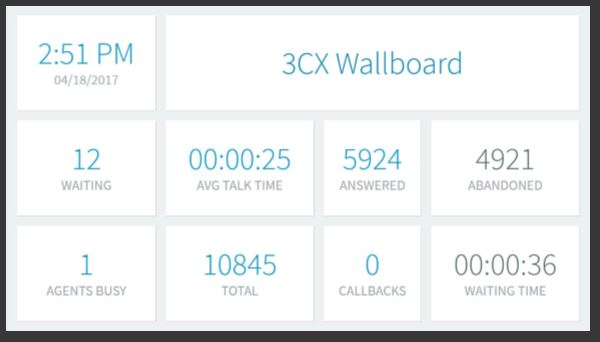 Increase productivity
See the presence of your colleagues
Setup conference calls in seconds
Voicemail, fax to email
Corporate Instant Messaging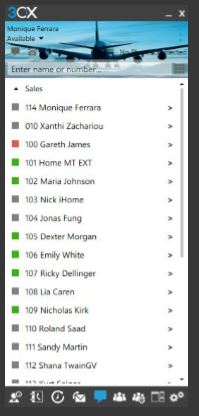 Built-In Web & Video Conferencing
Launch web conferences / video calls in seconds – from the 3CX client
Clientless with WebRTC technology – participants just click a web link
Minimum bandwidth consumption
No extra learning curve or separate web accounts
Click2Call Google Chrome Extension
Android and iOS apps included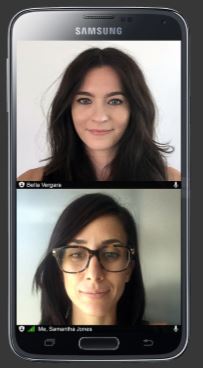 3CX Your Unified Communications Platform
Take your office extension everywhere
Forward phone calls to your smartphone
Slash phone bill using Wifi or 3G
Save battery life with 3CX "PUSH Technology"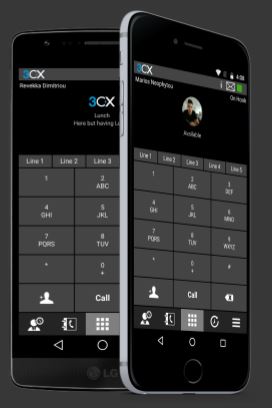 Desktop Call Control & CRM Integration

Click to Call, from browser or CRM
One-click call transfer to other extensions or voicemail
Call Journaling & Customer identification
Control your IP phone from your desktop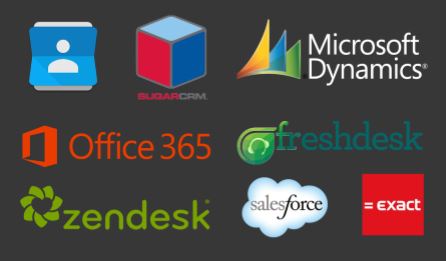 Quick to Install

Install 3CX in minutes
Automatically provisions supported IP phones
Deploys client software to Smartphones & Desk / laptops
Automatically configures VoIP Gateways and SIP trunks
Easy Management
Easy to use web-based console:
Create new extensions
Manage IP phones network wide
Configure smartphones remotely
Single point of support for the whole solution
3CX managed FQDN
3CX Dashboard

Monitor key data from one screen
See key machine and PBX Info
Alerts for critical events
Auto purging of databases

About 3CX
Developer of the award-winning software-based PBX, 3CX Phone System
Works on mainstream operating systems
Offering complete Unified Communications solution
Recognized technology leader
Established in 2005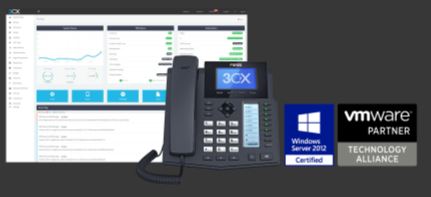 3CX - Award winning innovater
First software-based, open standards, IP PBX
First to launch WebRTC Gateway - offering Click2Call
First to include integrated softphones for Android, iOS, Windows and Mac
First to include integrated clientless web conferencing
Global offices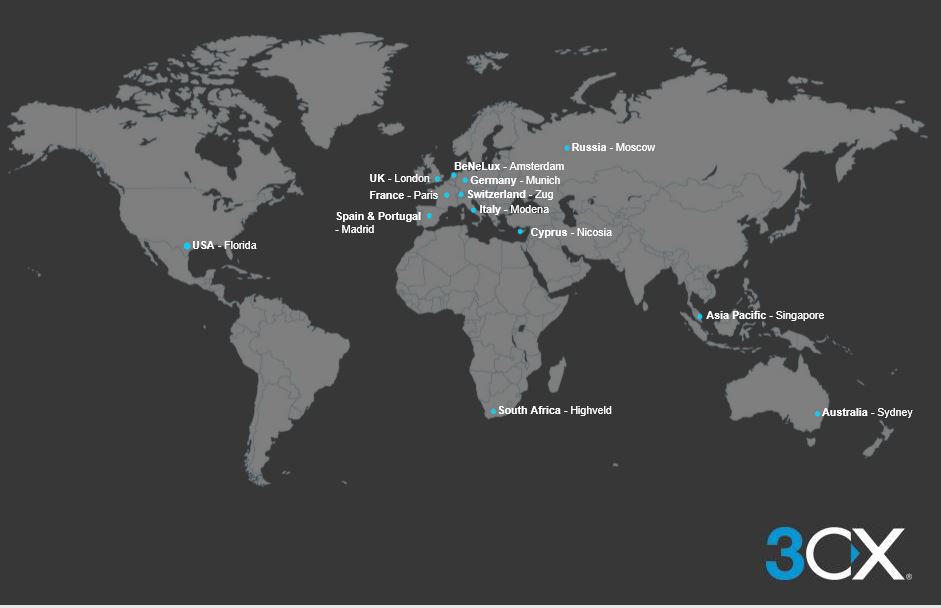 3CX Customers

Cost-effective solution for SMBs and large enterprises
Major global customers
50,000 customers worldwide and growing
40% growth year-on-year
3CX Partners

100% channel company
Over 10,000 3CX Partners worldwide
Award-winning 3CX Partner Program
"3CX is forward thinking, it developed a robust software PBX with hypervisor in mind and its communication solutions are a great fit for organizations of any size."
Felipe Garcia, America's IT Director - Infrastructure & Services at Wilson
Key Alliances

Microsoft Gold Partner since 2006
VMware ready
Gateways: BeroNet, Patton and Welltech
IP phones: Snom, Yealink, Fanvil, Htek
Major SIP trunk providers: AT&T, Time Warner Cable, BT, SwissCom, Deutsche Telecom
Are you looking to replace your company's outdated PBX? With 3CX there is no need to worry about management and installation.
Installation & Configuration is straightforward with 3CX:
Connect with prominent SIP trunks within minutes with pre-configured templates.
Plug-in an IP Phone or Gateway to your network for automatic configuration.
Avoid interop Issues with 3CX tested IP Phones.
Through the easy to use management console you can:
Create, edit and delete extensions and DIDs.
Upgrade IP Phone Firmware.
Reprovision & reboot IP phones remotely.
Import or delete all contacts at once.
---
Deploy On-premise or Cloud: The Choice is Yours
With 3CX, deployment of your PBX is straightforward and flexible. Whether you choose to set up in the Cloud or on-premise,  3CX offers a solution for everyone.
Cloud Solutions
Use the PBX Express tool to deploy your free Cloud PBX, in minutes.
Select from a range of mainstream cloud providers such as Google, OVH, Amazon, 1&1 and many more.
Jump aboard the PBX Express and benefit from the 1 year Free Edition License offer.
The free Edition License includes: 8 simultaneous calls (up to 25 extensions), 1 SIP Trunk and 5 web conferencing participants.
On-premise Solutions
Deploy on existing Windows or Linux machine.
Deploy on a MiniPC Appliance.
Virtualize and segregate on Hyper-V or VMware.
---
Security & Backup
When it comes to VoIP security, 3CX sets the standard. 3CXs inbuilt security has been exclusively developed to protect your PBX system from attacks.
Increased secure web server configuration.
Automatic detection & blacklisting of SIP Attack tools.
Traffic to 3CX clients is encrypted via SBC.
Voice traffic is encrypted via SRTP.
Automatic generation and management of SSL certs.
Revolutionary VoIP Security with A+ rating from SSL lab.
Automatic Failover for instant backup.
Encryption between browser and the website ensured via HTTPS.
---
Slash Costs
By using 3CX, your ongoing telco cost savings will be so significant and so will the cost of buying, expanding and maintaining your PBX.
Decrease your Phone Bill by 80%.
Licensing based on number of simultaneous calls and not extensions.
Avoid per extension licensing and pay per PBX instead.
Make free Inter-office calls and branch calls
Use prominent SIP trunks to reduce outbound call charges
Reduce travel expenses with integrated web conferencing
Eliminate 800 number phone bills with  WebRTC integration
Use International DIDs & IP Telephony so customers can call in at competitive rates
Clients & Features
With 3CX, you can take your extension wherever you go, from VoIP clients for Android and iOS, Soft Clients for Windows and Mac to clientless web conferencing and the integrated web client, you are guaranteed to be kept in the loop wherever you go.
Download 3CX Clients on your Android / iOS Device
Use your extension from anywhere
Free VoIP calls with your smartphone
Connect all clients simultaneously via SIP Forking
Most Progressive Android & iOS VoIP clients in the UC market
Benefit from integrated features such as, Presence, web conferencing, conference calling
Easy to Use Windows & Mac Softphones
Initiate IP Phone calls from your desktop with CTI mode
Work remotely from anywhere
Easily view the presence of your colleagues
Use the Receptionist view to administer calls, then drag and drop calls for a swift call transfer
Launch calls directly from your CRM; integrate seamlessly with Office 365, Google contacts or Internal Phonebook
Automatically obtain reports  on customer and agent activities
Includes Wallboard and Q-Manager view
Multifunctional Web Client with inclusive multiple features
Integrated WebRTC technology resulting in reduced bandwidth usage
Click to Call Chrome Extension
Free for up to 5 participants
Unlimited users regardless of edition
Initiate a conference with one single click
Correlated operability between VoIP and video
Bandwidth Management and Control
Remote control assistance for quick & easy troubleshooting
Pre-upload PowerPoint & PDFs before meetings
Easy to use polling tool for feedback